Lush cosmetics' vertically integrated model helps fuel collaborations.
Since cosmetics firm Lush abandoned social media in 2021 it has sought to boost its brand awareness in the market through a series of unique collaborations that are significantly helped by its vertically integrated model.
It severed its links to Instagram, Facebook, TikTok and Snapchat after Mark Constantine, co-founder of Lush, read an article linking social media to suicides in young people. Although Cadi Pink, supply chain impact manager at Lush, says the negative impact on sales from the move is "hard to quantify" it has prompted more creativity within the company including a series of collaborations.
Working with major brand owners such as Mattel and Paramount the company has developed various limited edition product ranges involving characters such as Japanese Anime One Piece, Super Mario Bros, SpongeBob SquarePants and Barbie. These generated significant levels of online searches and brought in £15 million of additional sales within 12 months.
The eight collaborations launched this year have brought in an average of a 30% increase in new customers. These new customers have also shopped with Lush after the collaborations, judging by the new shopper numbers for March to June 2023, which showed an 11.2% increase in such transactions versus the same period in 2022.
Critical to these collaborations is the vertically integrated model at Lush, which involves all its products coming from its own manufacturing facilities that sit alongside its product development teams – at seven global locations. This enables the marketing departments to work closely on developing new products with the manufacturing teams, which means they are actively involved in product formulations and the finer details of production rather than just marketing a finished product. 
They all work collaboratively across Lush's primary product areas of bathing and shower products – including bubble bars and bath bombs – although the output also encompasses the likes of face masks and toothpaste tabs as well as a modest make-up range that includes mascara and lip gloss.
This control over all aspects of the business is paramount for Lush because it enables it to operate to the highest levels of ethical and environmental standards, which are the foundations of the business. This very much extends into the sourcing of ingredients, which Pink recognises as a challenge.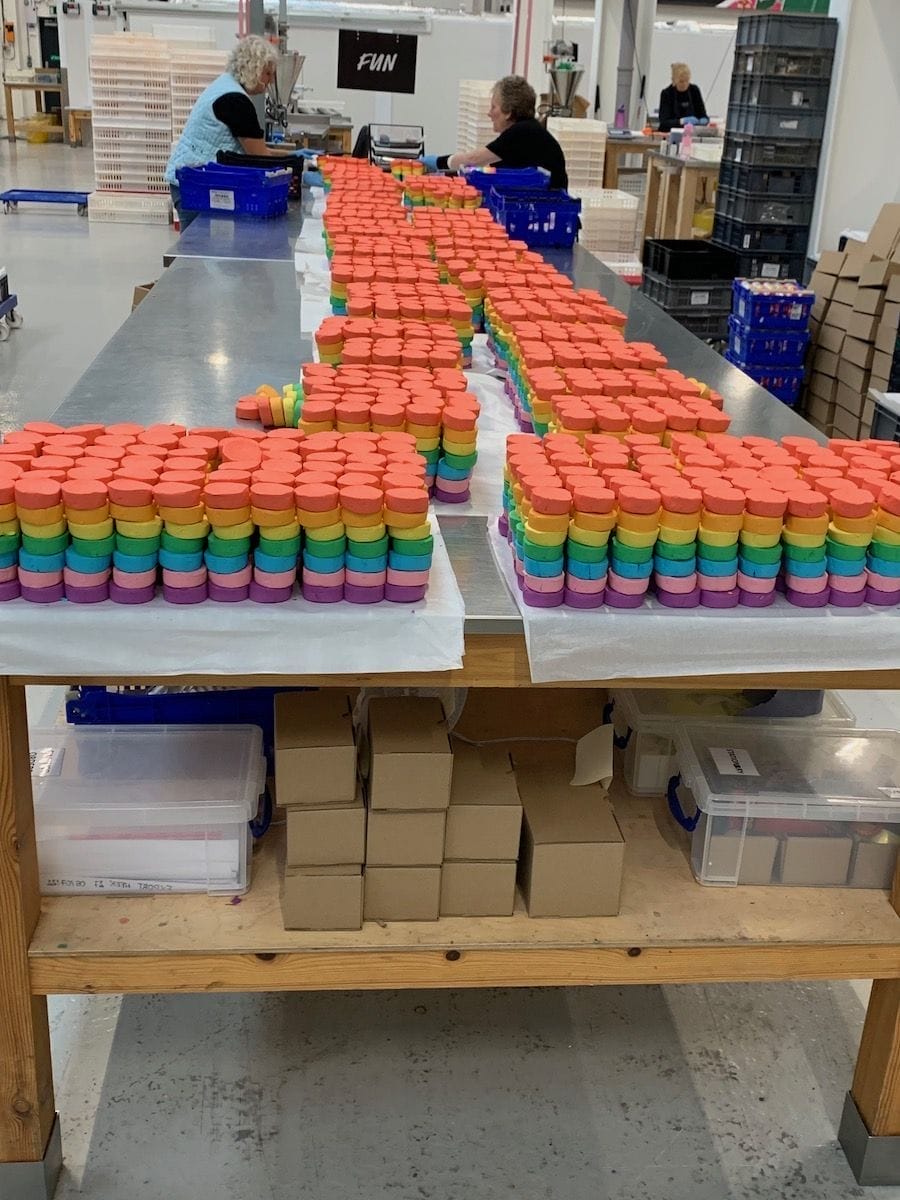 Lush has 1,300 global suppliers and the selection process is particularly sensitive because 80% of its emissions are within its supply chain. "We've put a lot of money to work with our suppliers such as funding replanting schemes and reducing pesticide use," she explains.
It works with different suppliers in an array of diverse locations and they are often at different stages of the journey of working with Lush and its very strict environmental standards. During this process the focus is very much on fresh ingredients, which helps Lush ensure the quality of its ingredients and avoid any nasty preservatives.
Annabel Platt, manufacturing communications coordinator at Lush, says the company will often pay more for these raw materials as it wants the best. It also likes to work with local producers and this very much applies to its fruit and vegetable ingredients that play a large part in Lush's distinctive fruity flavours and aromas. 
At the UK base, within Poole in Dorset, the likes of blueberries, seaweed, garlic, lemon and cucumbers are frequently used in its products. Much of it sourced locally alongside Dorset sea salt, Isle of Wight vodka, and the ground materials from Bad Hand Coffee.
The fresh nature of the products also presents challenges because it results in a short shelf-life but the company believes this can help it ensure its products are at the highest possible quality standards when purchased by the customer because of the rules it has in place. These dictate that any products sat in its warehouse for more than 28-days (42 days for Christmas lines) are not sold to the public. They are instead donated to various charities.
All these products are also handmade, which could be seen as adding yet another complication into the mix but Platt says the beauty of hand-making products is that it fosters an inventive mind-set at the business. It also means Lush can avoid having to deal with the costly and time-consuming tooling-up of the production line for any new products. 
"It allows us to be super creative, even if it's a challenge. We can invent a product and it can be in production in two weeks. This allows us to be very reactive," she says.
It is this powerful combination that has enabled Lush to successfully develop its ongoing ranges of unique products in collaboration with the big brand owners while also adhering to its environmental and ethical standards. This will no doubt power further launches in the future.