Rejuvenating Oxford Street.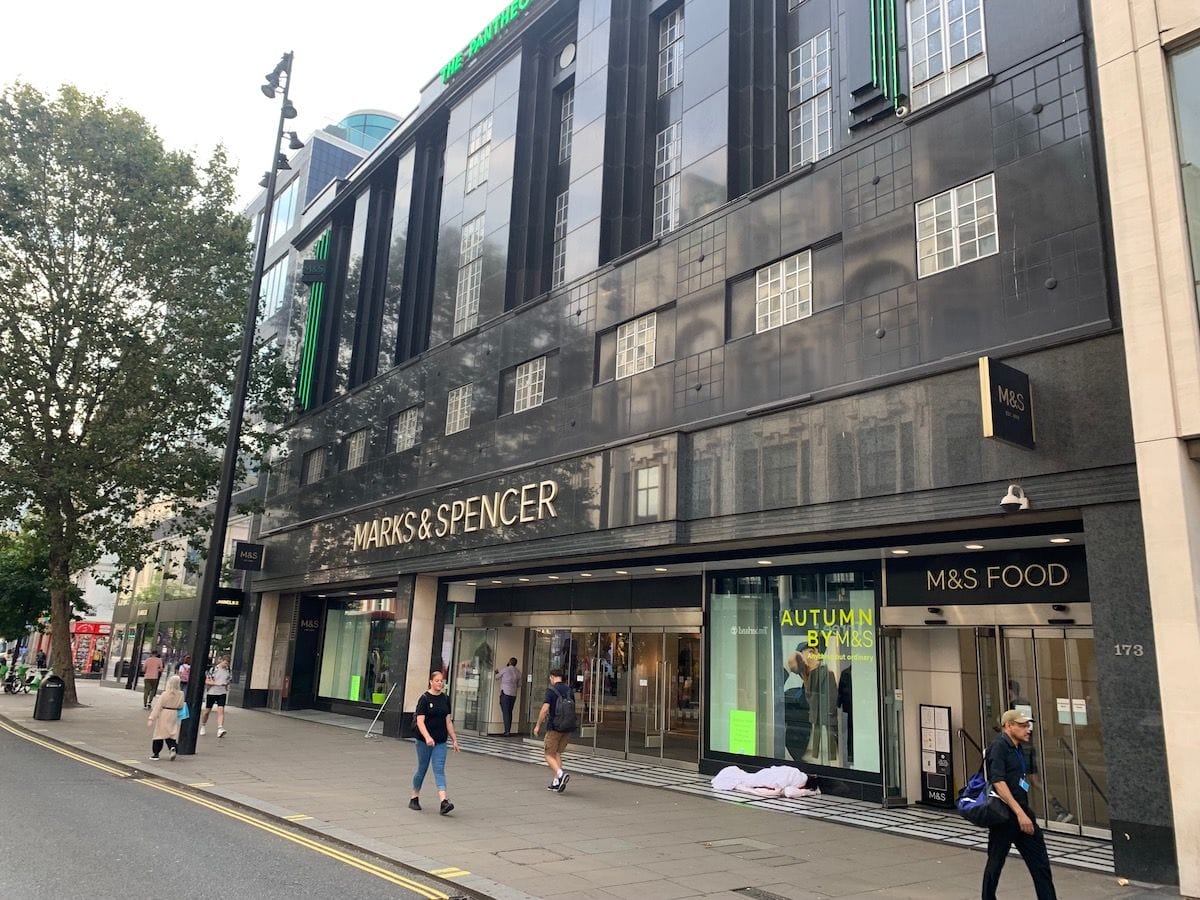 L
ondon's Oxford Street has suffered greatly in recent years from a rise in vacant units, the slow return of shoppers after Covid-19, and an influx of American sweet shops that avoid paying business rates and lower the tone of the thoroughfare.
But could the UK's main shopping street be on the up as a raft of new retailers have been taking units and major developments are underway at some of the key properties on the road. 
This is certainly the view of Geoff Barraclough, cabinet member for planning and economic development at Westminster Council, who took me on a personal tour of the 1.8 kilometre long road from Tottenham Court Road in the east to Marble Arch in the west to highlight the positive activity taking place.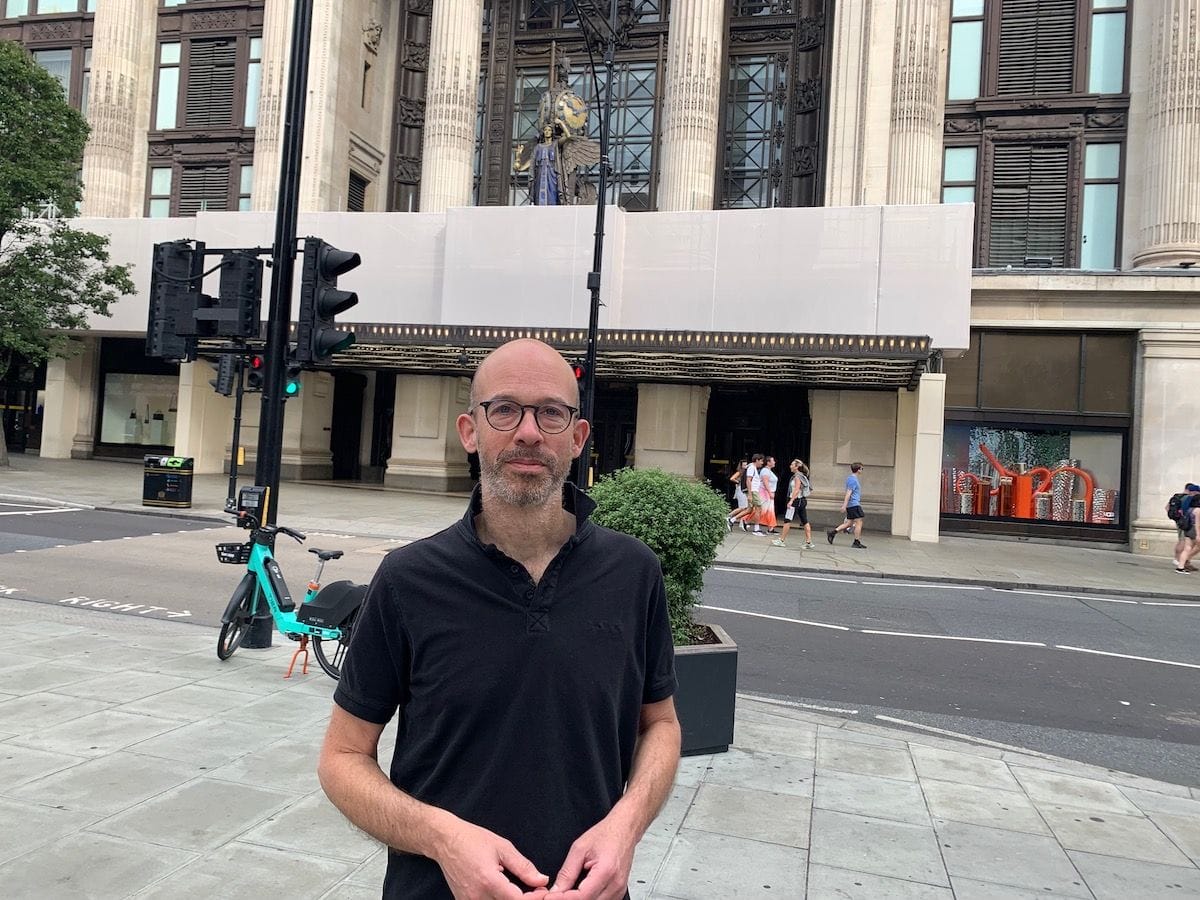 Geoff Barraclough, cabinet member at Wesminster Council
The council is working with the New West End Company – that represents businesses in the area – on the revitalisation of the street, which is the latest initiative in a 15-year stretch of various moves to improve the situation but which have all hit the buffers. This has included two failed attempts to pedestrianise the road and the creation of the infamous 25 metre high Mound tourist attraction that was universally ridiculed for its poor tax-payer value.
The new partnership is seeking to avoid anything controversial, according to Barraclough, and rather than removing traffic the £100 million rejuvenation project – beginning in late 2024 and running through to early 2026 – will focus on a mix of widened pavements, new and improved pedestrian crossings (12 new ones will be introduced), and improvements to the existing community areas through turning them into compact parks with increased seating and planters. 
The moves will hopefully address the £70 million reduction in business rates the council has been able to collect following the most recent revaluation in spring, which reflects the fall in Oxford Street's fortunes. It is worth noting that Westminster Council collects the rates and then passes them onto the Government to redistribute across the country so the shortfall has a much more widespread impact than just on Oxford Street. 
Such is the length of the road, and the very disparate ownership of properties, that there are currently various pockets of activity on its route that point to positivity. The completion of Cross Rail, which involves new stations at Tottenham Court Road and Bond Street, has brought an additional million people within a 45 minute journey of Oxford Street. At Tottenham Court Road the station's creation has also involved a batch of new properties, which has all contributed to pushing rents at this east end of the street above those at the mid-point of the street near Oxford Circus. 
This middle section of the road has been particularly hard hit with its concentration of department stores that either failed or were closed. These include House of Fraser, Debenhams and BHS. "Covid and the death of the department store hit Oxford Street," says Barraclough, who points to much activity currently taking place on these sites.
Debenhams is currently undergoing major works by its owners the family behind H&M, while House of Fraser is also in the middle of a major overhaul, at a reported £100 million, involving new office space and a rooftop restaurant. Nearby the former Topshop building is covered in blue hoarding resembling the iconic IKEA bag as the Sweden-based firm redevelops the building to house a compact city centre IKEA store along with accommodating other tenants.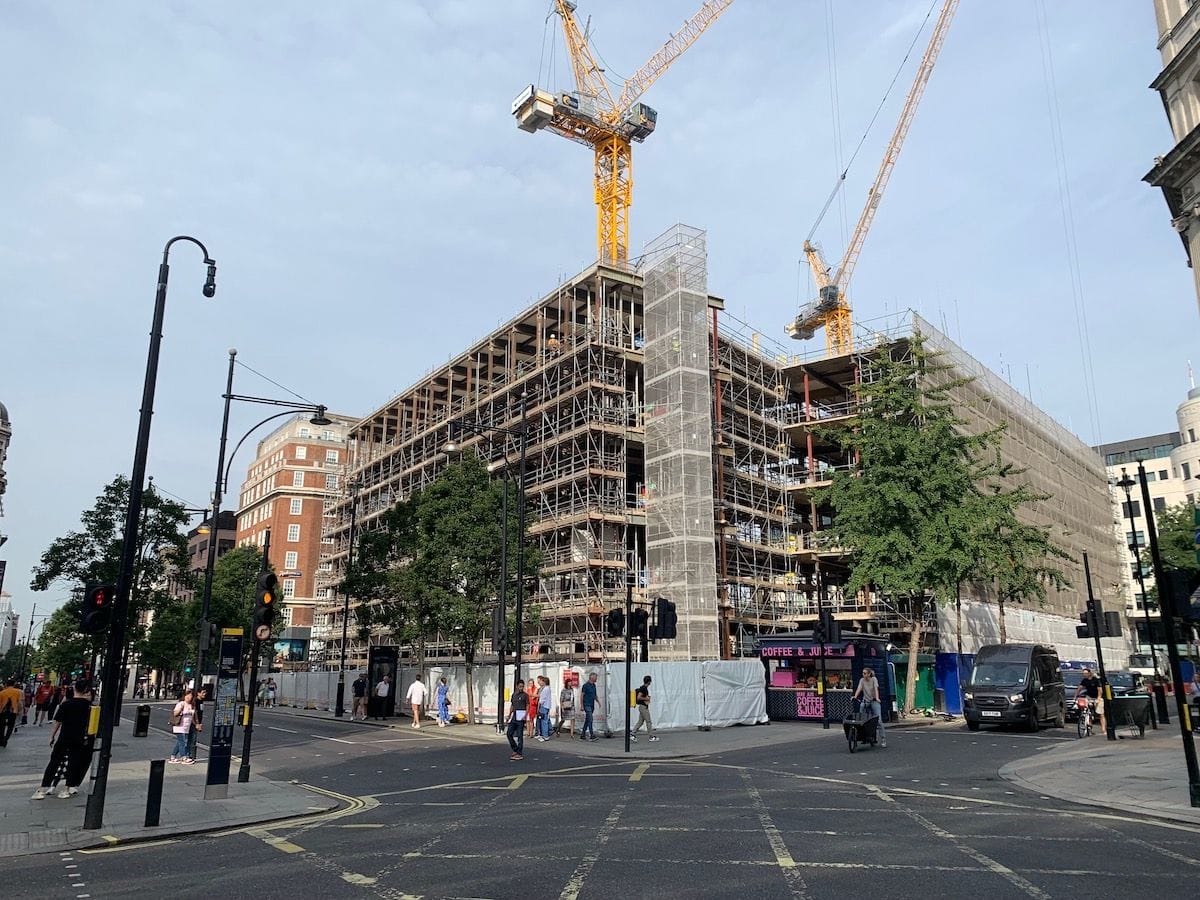 Debenhams is currently undergoing major works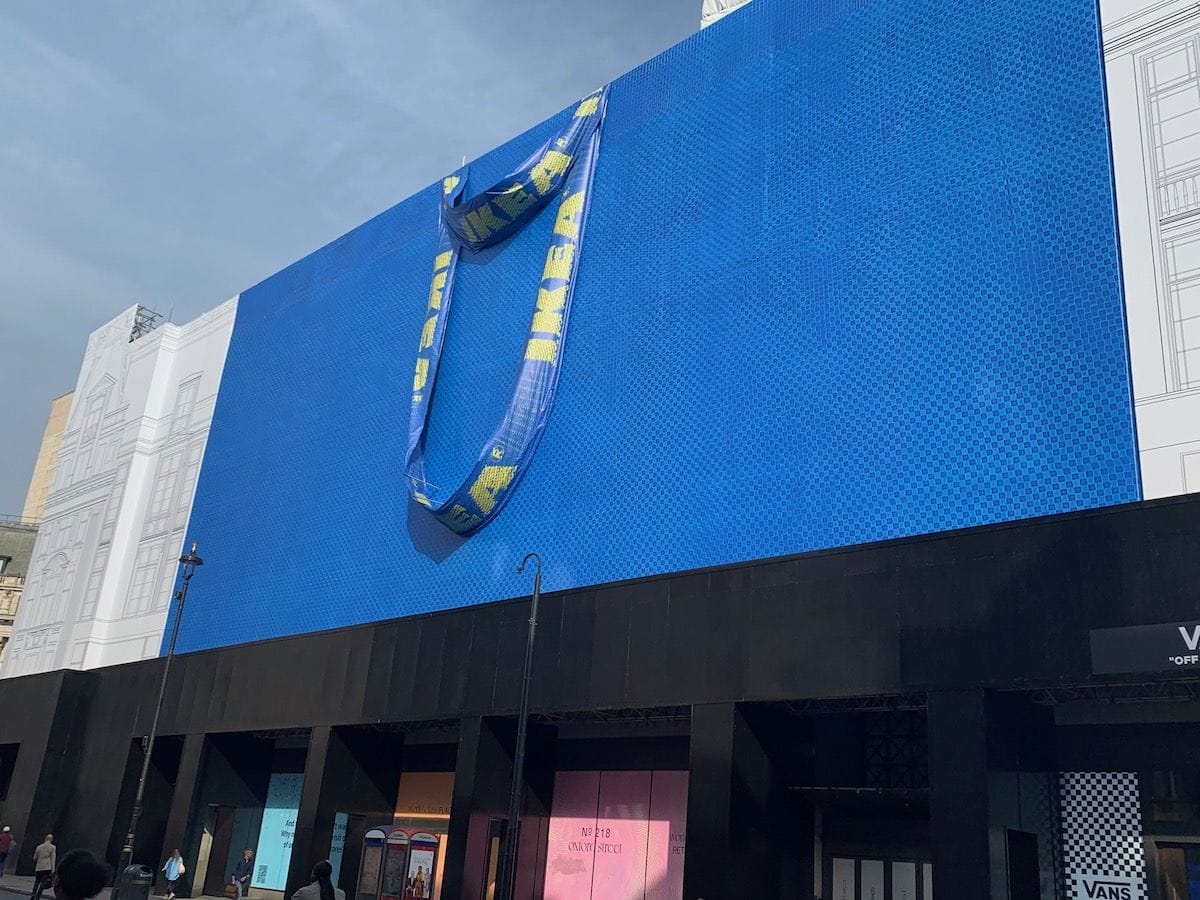 Down the road the former BHS building is now home to Market Hall food market and a Swingers mini golf course in the basement that highlights the move by Oxford Street away from its retail focus to also embracing more experiential activities and food & beverage businesses. 
This has certainly been an important part of the success of Selfridges, which represents a high point on the street, as it has always sought to mix a strong food and drink offer in its store alongside an ongoing programme of pop-up leisure activities that makes the outlet so much more than a one-dimensional retailer.
Adding to the mix on Oxford Street is Pocket Planet that is due to open an indoor miniature world attraction while at the Marble Arch end of the road recent additions include immersive art exhibition Frameless and the new One Marble Arch development will house modern art museum Moco, which operates sites in Amsterdam and Barcelona.
"There will be more leisure, especially in the basements, and there will be more activity in the evenings. Nobody lives on Oxford Street so there is less problem with noise at night and we would be open to more of this type of business," says Barraclough.
Certainly shoppers say they would like more food & beverage operators on the road but the landlords have been somewhat reluctant because it might impact their office tenants on the upstairs floors. Although Oxford Street is recognised for its retail the floorspace is split roughly 70% from office tenants and only 30% from retail so landlords can be sensitive to the requirements of their primary revenue generators. 
What the landlords have unfortunately been sucked into has been letting space to the plethora of American Candy-type stores that have blighted the road and garnered much negative publicity – although Barraclough says only 2% of retail floorspace could be described as sub-optimal. These businesses often have fictitious directors who avoid paying business rates to the Council.   
It must be particularly pleasing to Barraclough and his fellow councillors that the House of Candy store at 363 Oxford Street will soon be replaced by music retailer HMV that will be returning to its original location later this year following its closure in 2019. It is one of a raft of retailers that have been opening up on the street including Pandora, Poland-based Reserved – which is opening a second unit on the road – Kurt Geiger, Rituals and Under Armour.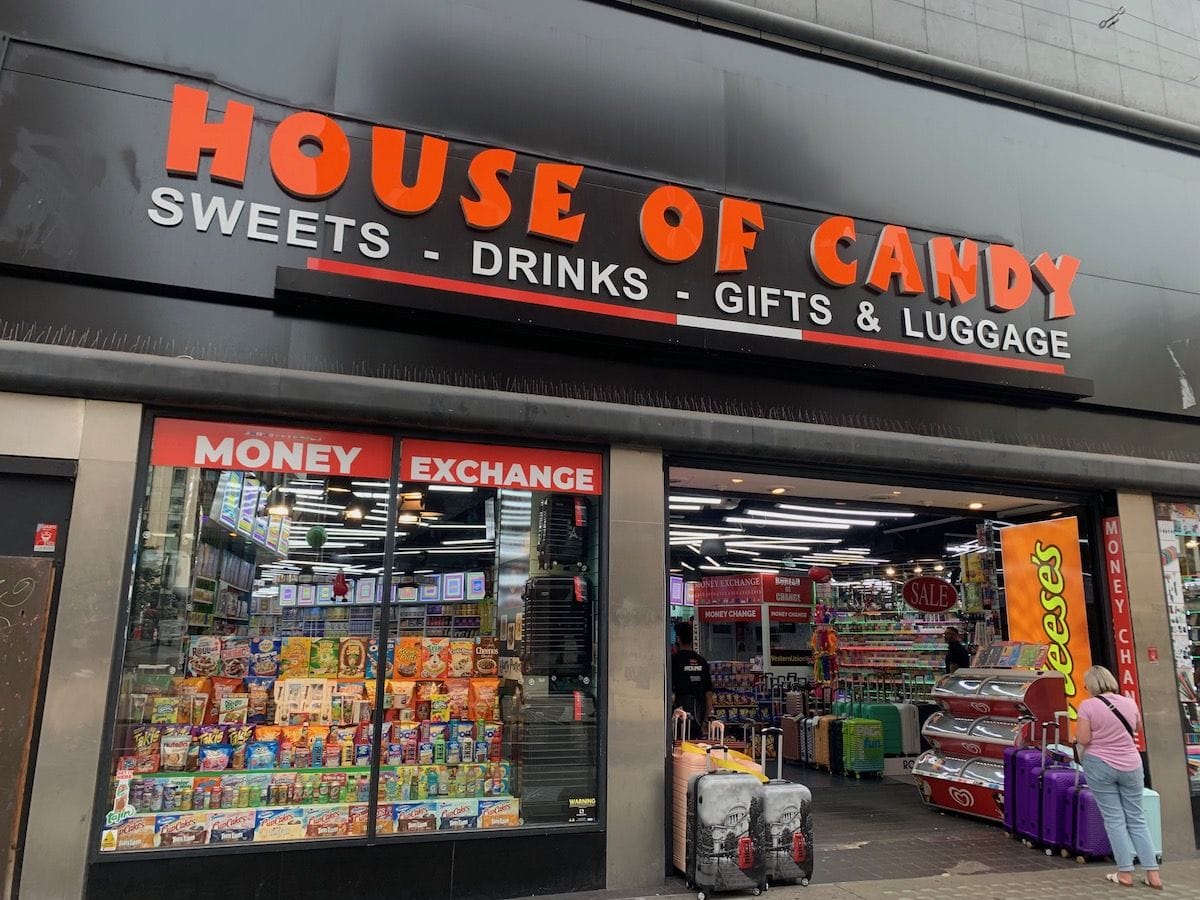 House of Candy will soon be replaced by HMV.
Although the overall footfall on Oxford Street has yet to return to pre-pandemic levels there have been some positive trends. Offices remain quieter because of the rise of work-from-home but Barraclough says office worker spending on the street is probably unchanged but concentrated over fewer days. What has been particularly interesting has been the activity on Friday that has been bolstered by people working from home on that day and travelling into central London on an evening to socialise. 
Sundays have also benefited from this grouping visiting Oxford Street to shop whereas previously they would have been less likely to travel into London during the weekend having been commuting five days per week to their offices in the city. This trend has pushed trading on a Sunday to higher levels than before Covid-19. 
One issue that remains problematic is the decision by Michael Gove, the secretary of state for levelling up, housing and communities, to reject the plans by Marks & Spencer to overhaul its Marble Arch store. He refused the development primarily on heritage grounds, with the main reason being the loss of the Orchard Street façade. He also mentioned sustainability and has a preference for the retrofit option to a rebuild. Such has been the disappointment at this decision by M&S chief executive Stuart Machin that he has launched a legal challenge against the move.
One worry for the ongoing rejuvenation of Oxford Street would be for Machin to deliver on his threat of abandoning this particular store. This would undoubtedly be a major blow but the retailer would still have its distinctive black-fronted Pantheon store located near Oxford Circus.