Major grocers tooling-up in retail media.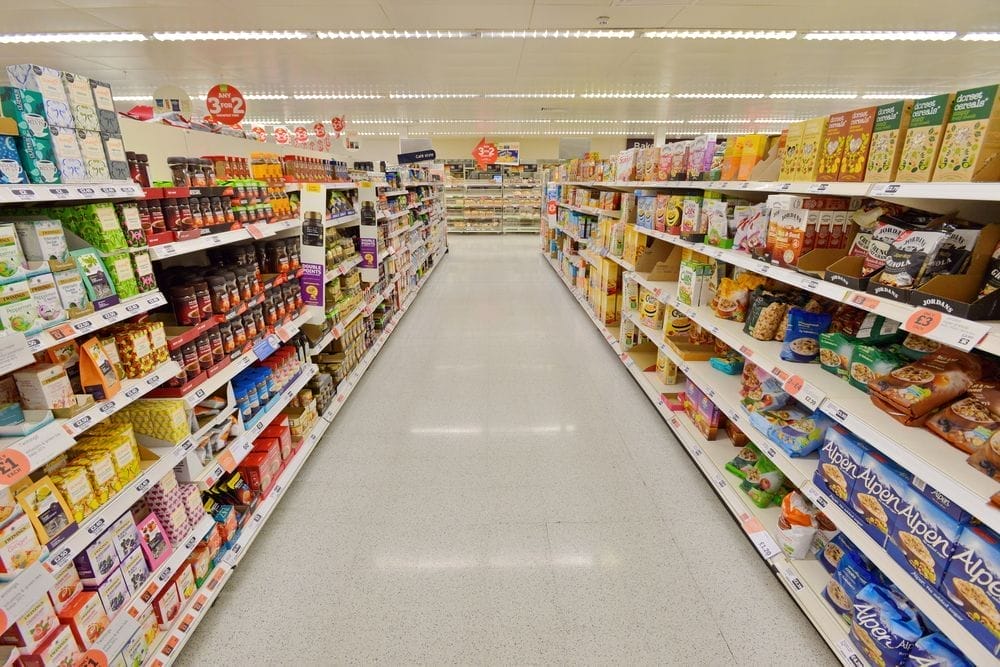 The UK's major supermarkets are looking to drive greater revenues from advertising both in-store and online, as well as boost engagement, with Tesco and Sainsbury's both recently announcing serious retail media initiatives.
Through its Media & Insight Platform Tesco is to expand its retail media capabilities with a market-leading proposition that includes bringing the benefits of digital media into its stores in a more dynamic way than previously. This involves the ability to place ads on the handsets used for its Scan As You Shop (SAYS) service as well as utilising its current 1,000-plus digital screens in-store, and over 500 smart-screens positioned outside its stores.
There are initially two types of ad available to brands on the SAYS handsets. A single full-screen ad that is displayed when a customer scans their Clubcard, and rotating basket banner ads (at the top of the screen) that appear for 60 seconds at a time. There is undoubtedly the opportunity to extend this basic proposition to more tailored ads based on previous customer behaviour and further down the line the potential to deliver a dynamic pricing-type proposition.
These capabilities are complemented by the new targeted ad placements on both Tesco.com and in-app that include 'Sponsored Browse', 'Special Offers' and 'Favourites' spots that can be tailored to Tesco's 21 million Clubcard members. The ads across all the different media are driven by insights derived from the Tesco-owned Dunnhumby business that operates Clubcard.
Nick Ashley, managing director of Tesco Media & Insight Platform, says: "Tesco is leading the way in retail media, giving brands and agencies the power to truly shape what Britain buys, with Tesco Media now standing shoulder-to-shoulder with the established media houses. This scale, combined with our advanced closed-loop measurement and cutting-edge data science, allows brands partnering with Tesco Media to connect with shoppers like never before."
Not to be outdone Sainsbury's has announced it is to double its in-store digital screen network, Sainsbury's Live, through its Nectar 360 division that runs its Nectar loyalty programme. This will see it boost its footprint to 820 screens.
It forms part of a broad collaboration with Clear Channel UK, which manufactures the technology, and will involve an upgrade and expansion of the number of external screens placed at store entrances from 320 to 420 and the build-out of a new network of 400 digital advertising screens within Sainsbury's stores.
The new internal screen network will be particularly powerful as it will enable Sainsbury's and advertising brands to better tailor their campaigns, based on various factors such as location, weather and events. Amir Rasekh, managing director of Nectar 360, says the connected screens offer the opportunity to generate a variety of customer interactions including QR codes and relevant offers, as well as building brand and product awareness in-store.
"The digitisation of the store environment is expected to be the next evolution of retail media networks, so it's important that we connect our digital capabilities across channels. Over time, the Sainsbury's Live partnership will play a part in allowing us to connect our entire retail media offering through ad tech – in-store, on-site and off-site – using our rich insight to enhance the customer journey," he says.
Discount retailer Aldi has also been developing its digital signage capabilities through work with Trust Systems that has installed a networked – centrally managed – solution across its full estate of 1,200 stores. This involves technology from Samsung, which can drive additional revenues from real-time, targeted promotional content.
The current arms race to develop retail media propositions by the major supermarkets is a reflection of its potential as a major revenue generator and it therefore looks likely to be an area of major innovation and investment for the foreseeable future.