Selfridges launches The Stock Market for trading pre-owned goods.
Selfridges has launched The Stock Market pop-up within its flagship store in London that mimics the trading floors of stock exchanges with customers able to trade-in their used goods, which forms part of the company's circular economy strategy.
Launched on May 15 the pop-up runs for one month and injects some excitement into the resale and upcycling of goods by aligning it with the buzzy elements of a stock market. Rather than stocks and shares being traded it is clothing, shoes, bags and other accessories that are the assets being bought and sold.
Within the pop-up is The Trading Desk that involves Selfridges 'stockbrokers' valuing items brought in by customers who can trade them in for store credit. This sits alongside a number of third-party partners that each offer different circular services such as resale, restoration and alterations for certain product categories. These comprise: Sneakers ER that specialises in the buying, selling and reconditioning of sneakers; SOJO, which undertakes clothing alterations and repairs; and The Handbag Clinic, which buys, sells and repairs bags and other leather goods.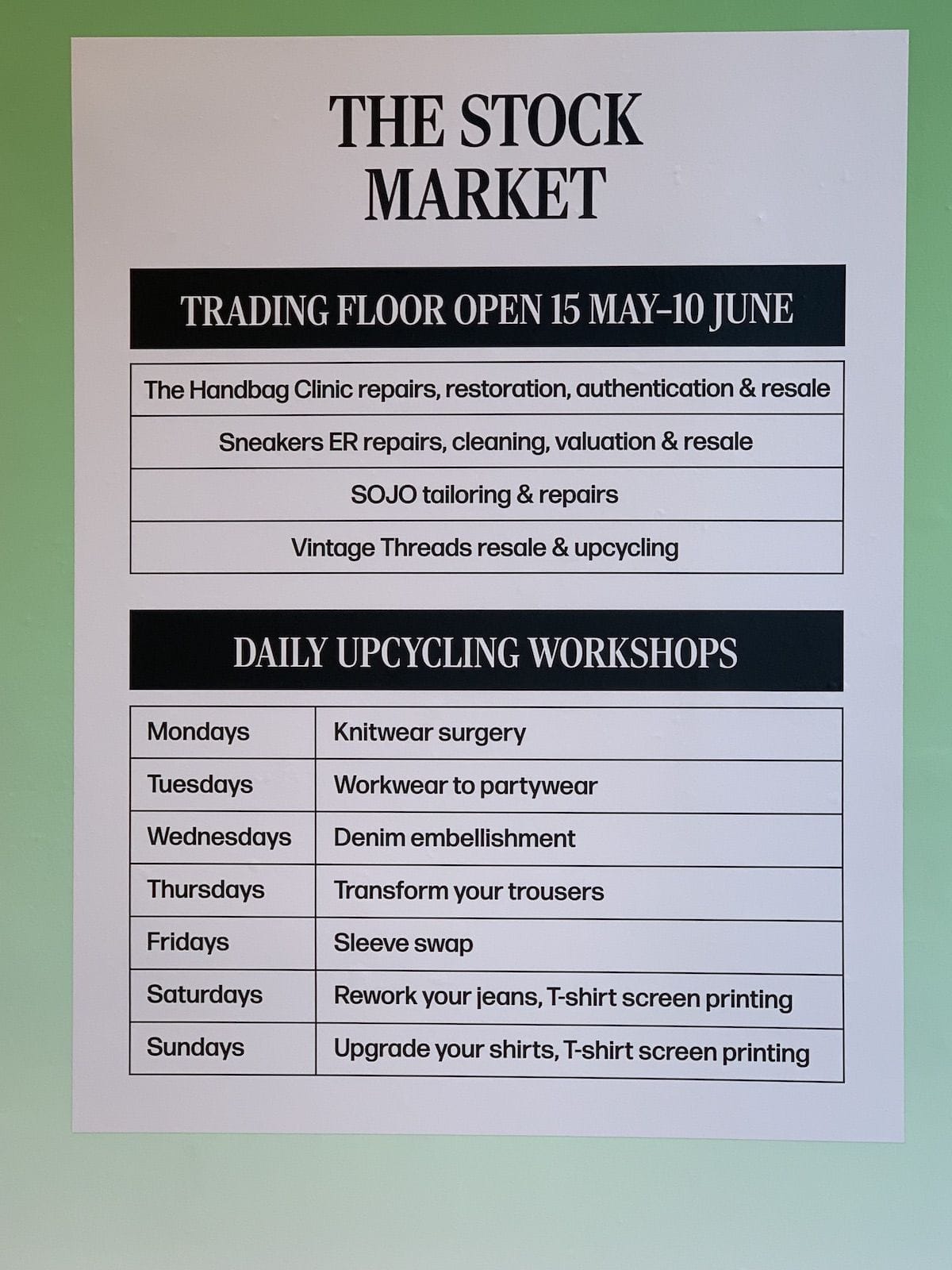 Melodie Hinsley of The Handbag Clinic, says: "We offer a buy-back service where we authenticate and value the customer's products. These are on-the-spot valuations that might involve a 20-30 minute assessment and authentication. We also do the restoration of bags and other leather goods."
The early days of the pop-up have been busy, according to Hinsley, who says that on the first day 20 bags were traded in at a cost in some cases of a couple of hundred pounds. "Resale is a huge market that is breathing new life into things that would otherwise be thrown into the bin," she says. 
There is also an ongoing programme of Daily Upcycling Workshops for shoppers to attend including a knitwear surgery, denim embellishment, and upgrading shirts.
The Handbag Clinic, along with the other traders, gives out gift card credits for goods its buys-back that can then be used in Selfridges. The department store does not take a cut from the transaction but is instead using The Stock Market pop-up as a way to engage with shoppers and highlight the opportunity for them to participate in the circular economy.
The Stock Market is part of the over-arching Reselfridges sustainability initiative whereby Selfridges aims to have as much as 45% of its revenues generated from circular products and services by 2030.