Book review: Charting the incredible e-commerce journey.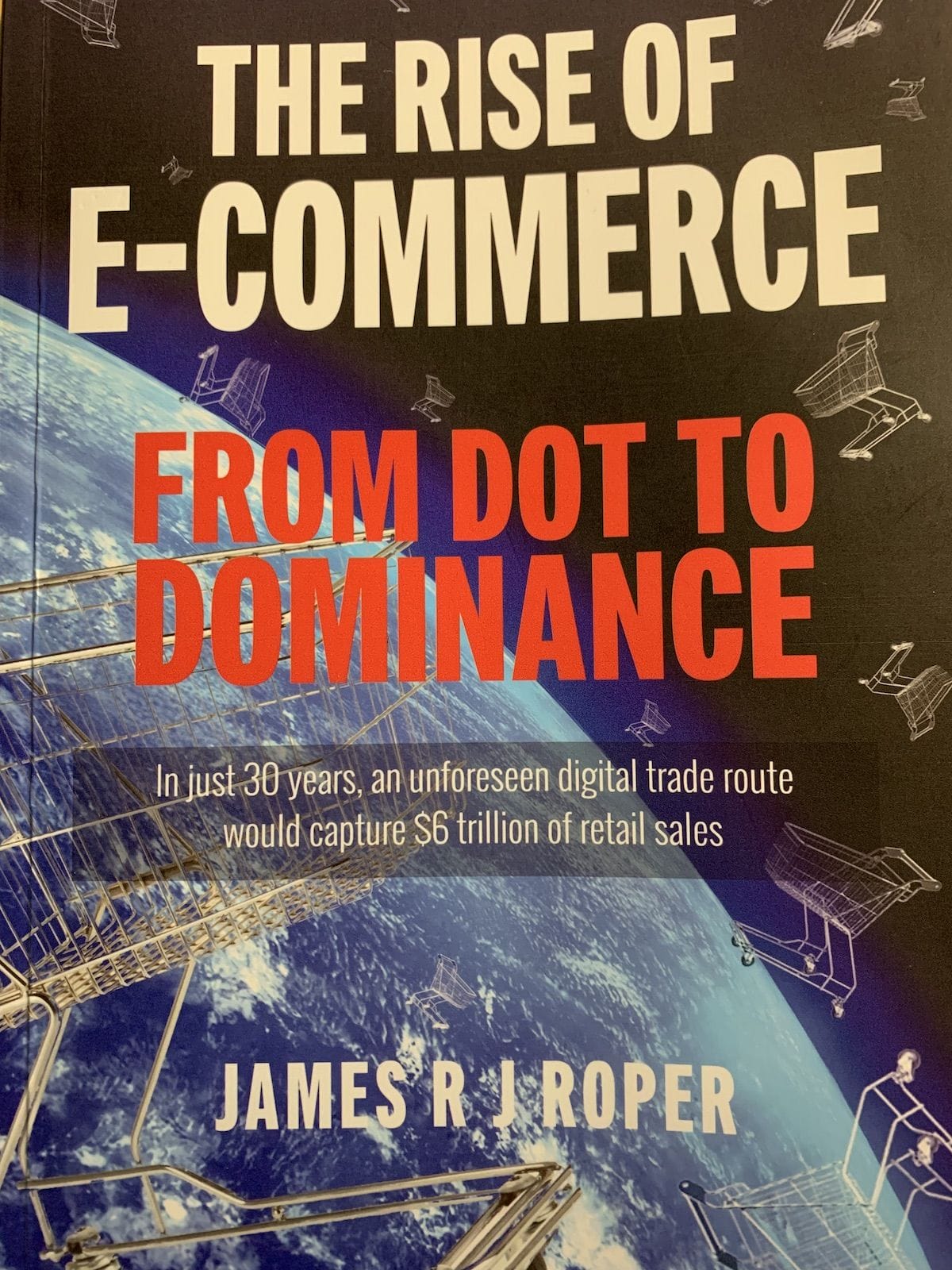 It is very much stating the obvious that the internet and online commerce is everywhere. But we have not lived in this connected, always-on world for very long and a forthcoming book, 'The Rise of E-Commerce – From Dot to Dominance', details the story of online retail from its early beginnings in 1990 through to the present day.
What gives this book value and authority is that its author James Roper was in the thick of it from day one in the UK as he created the membership organisation IMRG (Interactive Media in Retail Group) that started loosely in 1990 when he published a sponsored report investigating the potential of interactive media involving early kiosk-type devices placed within stores that relied on phone lines for updating the data.
The book is conveniently split into three sections – covering the decades 1990-2000, 2000-2010, and 2010-2020 – and it is in the first section that we hear about how things initially moved along at a relatively pedestrian pace from a technology perspective and also for the fledgling IMRG. It was not until 1994 that Roper was able to put the organisation on a legal footing and sign-up a growing number of retailers as members who wanted insights from his modest-sized team about things like secure payments solutions and the Netscape browser.
This bit of tech gave consumers easy access to this new internet thing. Netscape's IPO on 9 August 1995 is widely considered as the official start of the dotcom era but at the time it was very much seen as an obscure piece of IT.
Throughout the book Roper takes us to the heart of things such as his recounting of a private lunch with Netscape founder Jim Clark who expressed, to a very surprised Roper, his great concern that there was insufficient recognition of the opportunity his service could bring to businesses and that this was likely to cause him serious problems. He was absolutely right and Netscape would be overwhelmed by the likes of Microsoft after it was acquired by AOL (remember them?).
He takes us back to the very first secure online transaction on 11 August 1994 via online store NetMarket in the US involving a purchase of Sting's album Ten Summoner's Tales on CD. Then in 1995 Amazon began selling its first books while in the UK WH Smith was an early internet pioneer with its online service that resulted in it facilitating the first secure online transaction in the UK.  
From this point things motor along in the e-commerce space and the book includes details about the development of the payments infrastructure behind the growing number of online transactions and the incredible story of Dixons-owned Freeserve that gave UK consumers free internet access for the first time. This undoubtedly lit the touch-paper for e-commerce growth.
As Roper takes us on this incredible journey we get to hear about many of the lesser known pioneers such as Scott Thomson who was instrumental in setting up the infrastructure for secure online transactions and Steve Hinchliffe whose multi-media marketing initiatives were way ahead of their time. 
In the second section, 2000-2010, we see e-commerce really starting to hit its stride as Roper states: "Five years earlier [in 1995], many people had not even heard of the internet, but by 2000, some 30 per cent of Britons were on it, and seven million had shopped online."
This growth was not without its bumps though as we hear the story of Lastminute.com and its IPO on 4 March 2000 that was undertaken only one week before global stock markets collapsed and the dotcom boom came to an abrupt end. Valuations of online companies collapsed and even Amazon was almost brought to its knees. 
But against this tough backdrop we had the launches in 2000 of the likes of Asos and Ocado. They rode the wave of increasing numbers of people shopping online – by 2010 almost 75% of UK households had internet access. Around this time IMRG created its e-retail sales index that continues to be the definitive measure for e-commerce sales in the UK. Throughout the decade up to 2010 the graph looked like a rocket heading into orbit. 
When mobile phones come into the picture – including the Apple iPhone in 2007 – with their always-on connectivity, this further fuelled online transactions. But as volumes increased Roper highlights how this began to cause problems with delivery and fulfilment causing acute headaches for retailers. 
This problem is still very much with us of course and retailers have undoubtedly contributed to this difficult situation. An IMRG survey in 2005 found 50% of retailers' websites had no delivery options for customers and they had to wait up to seven days or more for their items. It was also found that no delivery date could be specified on 75% of these online stores. Compare this with today where deliveries can be undertaken in mere minutes and customer-determined delivery windows are a feature with many retailers.
By the time we hit the final section of the book, 2010-2020, the internet and e-commerce had truly revolutionised the world. Online sales reached £1 billion in 2000, according to IMRG, but by the time we hit 2010 this has rocketed to £58.8 billion – an impressive 5,772% growth. 
This section largely brings us up to date with the online revolution (and the stepping down by Roper to a founder emeritus role at IMRG). But as we are to some extent currently living through the ramifications of these more recent events (Brexit, GDPR etc…) it feels like this is a tougher section for the author to pin down. He also introduces some opinion into the narrative that was not present in the earlier parts of the book and might not be in sync with the views of all readers.
The narrative can sometimes drift into detailing minutiae such as the telco infrastructure, payments and VAT, and regulation frameworks but this is the comprehensive nature of the publication and no doubt readers will take what elements they want from the book. Roper's humour also helps lighten some of the denser copy.
The earlier sections of the book are arguably the strongest because they bring out the pioneering insights of Roper and call on his impressive archive of materials. This helps the publication genuinely feel like the definitive story of e-commerce in the UK.
This makes it a great good read for those who want to relive those heady dotcom days and those who want to learn from history. It is filled with terrific insights and also puts the spotlight on many pioneers who might otherwise have been forgotten or written out of the story. This publication will hopefully put their hard work and achievements on the record as it also will, justifiably so, for the author himself.
The book can be pre-ordered on Amazon.