Women executives in retail #3: Cathy Collart Geiger, 1st female CEO in the French food sector: "When I grow up, I'm going to be a CEO".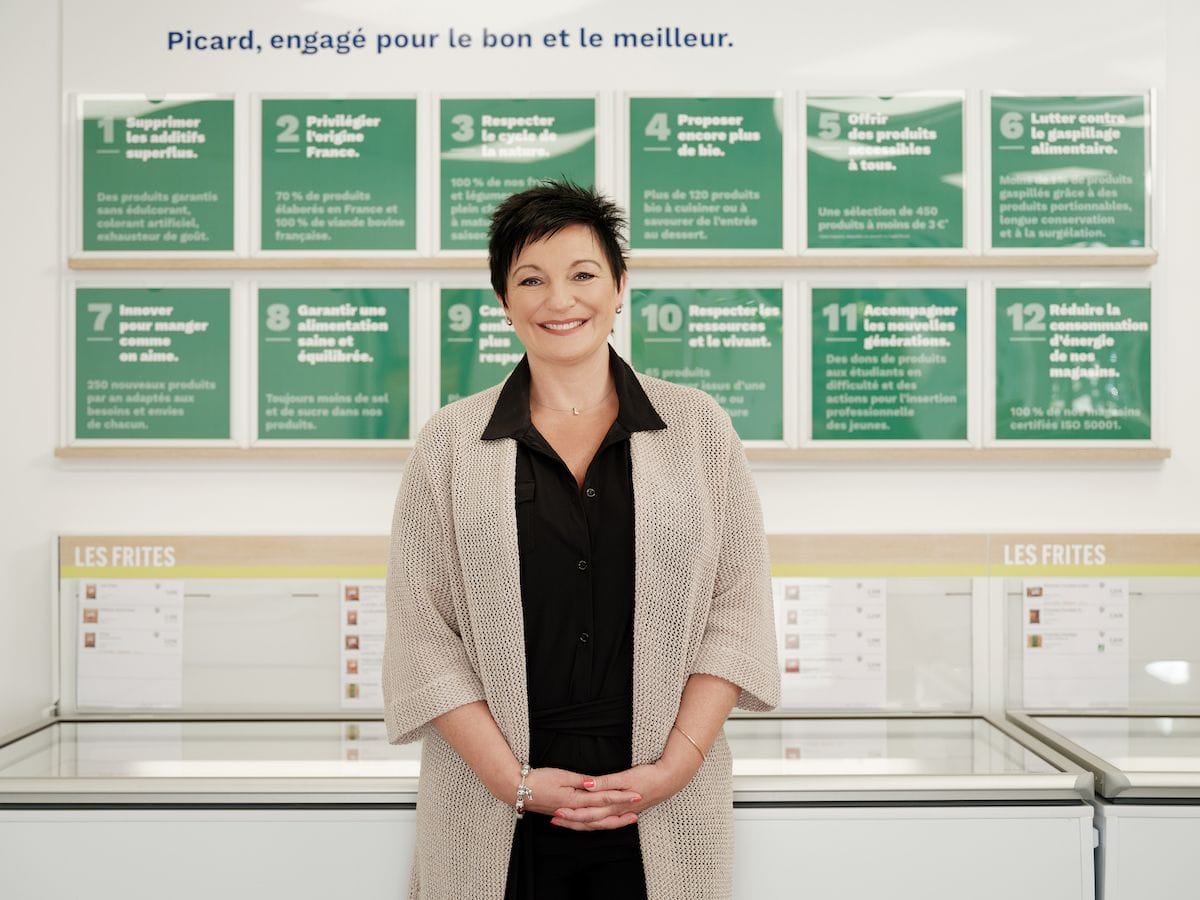 Cathy Collart Geiger has been head of Picard Surgelés for three years © Ludovic Lecouster
W
omen who have reached senior positions in the retail world are (all too) rare, not to mention invisible, which is why we decided to get to know them better by inviting them to tell us about their career paths, the challenges of the past and those of the future.
She started out as a department manager at a hypermarket at the age of 23. Two decades on, Cathy Collart Geiger is CEO of French frozen food specialist Picard Surgelés. Her success may have been achieved through pure merit, but it is still very unusual in the French food sector; indeed, the Lille native is now the 1st and only female CEO of a major chain. We went to meet this multi-tasking woman with a will of steel. 
You are the only female CEO in the French food sector. How did you come to reach this level of responsibility? 
My father was a professional soldier, and as the head of a team he had the ability to bring people together based on a common project. He was a member of the Blue Helmets and was deployed to Yugoslavia, and his men, who put their lives on the line when they went off to fight, had stars in their eyes because my father had united them based on a common project. It was this 'leader of men' side that first motivated me: I wanted to manage people, to unite them, to make my teams want to follow me. This initial driving force was further aided by my significant experience at Auchan. Having joined the group in 1994, I spent 20 years there learning everything I could. I remember going to see my boss with a piece of parquet flooring and telling him I wanted to create a lingerie section. 20 years later, they still have these sections in the stores!
My ambition developed gradually, although I know this word still sometimes comes as a surprise when used by a woman. At the time, I was a department manager and I told myself, "when I grow up, I'm going to run a hypermarket", and once I was running a hypermarket, I told myself, "when I grow up, I'm going to be a managing director". The people I was working with at the time smiled at that, but I believed in myself! I didn't know how long it would take me or what pathway I would take to get there, but I knew I'd get there. 
What was your secret to never giving up hope?
I was always very focused on what I wanted to do and I never listened to what anyone told me. I even left Auchan after a 20-year career because I couldn't progress any further, I'd reached that glass ceiling. I've never just put up with anything and I've never fit into any mould anyone wanted to force me into. I knew what was driving me, namely the desire to make an impact, to be enterprising, and I carved out my own path, step by step. I've been running Picard, France's favourite food retailer, for three years now. 
Department manager, hypermarket manager, regional manager… you've had many different roles over the course of your career. Has this become an asset for you today? 
I've worked in all aspects of retail, which has made me extremely robust and given me a 360° view of the issues and challenges facing the company and the sector. I've been involved in everything from data and the digital sphere to HR policy and expansion, and this rich career path has given me some highly operational skills, which I think is a real bonus for a company director at a time when we are experiencing one crisis after another. I'm also very committed to the issue of equality; my management committee is made up of 50% men and 50% women, in fact, and our latest gender equality rating was 99/100. This is a great source of pride because it recognises our efforts in this field, particularly in closing the gender pay gap.  
What is your strategy for Picard in 2023? 
Our strategy is to continue with the transformation plan we initiated in 2020, which is based on four pillars: 
Putting the customer at the heart of our sales strategy. We must continue to promote our

Picard & Nous

loyalty programme among our customers and to roll out our new

Bienvenue en Cuisine

('Welcome to the Kitchen') store concept, which now spans some thirty or so stores. These projects, which are all currently under way, are already producing results, with some 2.5 million new customers recruited over the past two years.

Pursuing our digital transformation and continuing to optimise the shopping experience for our customers, who already have access to home delivery and click and collect services. 

Continuing to strengthen our presence. We opened 19 stores in the 2020 financial year, 30 in 2021 and 40 in 2022, with another 40 expected in 2023. We currently have 1,090 stores, with our franchises also going from strength to strength; in fact, there were 10 franchises when I arrived, and now there are 48. I think it's a very relevant development model for smaller towns, with entrepreneurs who are a long-standing component of the local fabric. Our aim is, after all, to be 15-20 minutes from the consumer. We're also continuing our international expansion, with a different store model than the one we know in France, one that's more like a 'store-in-store' area inside retailers that are already well established. We now have a presence in no fewer than 18 countries. 

The final pillar is making ours a must-have brand. 
Where do you stand on inflation? 
We've chosen to only pass on the cost of raw materials. At the end of December, we were at 10% inflation, and by early January we were at 12%, bearing in mind that the frozen food market is at 17%. If we passed on all our cost increases in our prices, they'd be up 30%, which, for me, is unthinkable, so this year we've decided to reduce our profitability rather than pass on all of our cost increases to the consumer. 
How can we give the online shopping experience a more human dimension? 
Well we use data linked to our loyalty programme, for example, to enable us to send personalised messages to our customers. One example would be, at the end of 2022, customers who had bought loaves of pain surprise ('surprise bread') for Christmas received an SMS the day before reminding them to defrost it to allow it the 10 hours it needs. This isn't just a business relationship; it's also a relationship of support. 
What would you say to a young woman keen to start her own business?
I'd tell her to go for it and to really, really believe in it, provided that it's really something that drives her and that it really does reflect her values and her motivations. It's this alignment with my values, my style and my drive that's made me successful—it gives you an incredibly solid foundation! 
Do you have a flagship project already in place for 2023? 
We recently signed our first Quality of Life at Work agreement in early 2023, comprising 50 practical measures including an additional day's leave for those over 60 and funding for a car-sharing app for our employees, along with a Disability Agreement. We've also announced our desire to recruit Toupargel employees following the group's compulsory liquidation, because I think it's essential to show solidarity in such a situation, which has been deeply saddening. 
How do you take environmental issues into account?
Our efforts are centred around a number of avenues, notably reducing the amount of plastic packaging we use. We've saved 1,000 tonnes of plastic in two years by replacing it with other materials such as sugar cane pulp, for our verrines, and cardboard and by adjusting the dimensions, because we were sometimes using unnecessarily large packaging for small products. Nowadays, 80% of our plastic is recycled, and we've also reduced our carbon footprint by optimising our store rounds to reduce distances and reducing energy consumption in stores.